Preparations for FIMMA – Maderalia 2018 are now under way. The next edition of the biennial trade fair for materials and technology for the furniture, carpentry, decorating and furnishing industry is set to take place from 6th to 9th February 2018 at Feria Valencia, coinciding once again with Cevisama (5th-9th February).  Prospects for the returning event are better than ever since the last edition, in 2016, fully exploited the synergies of running alongside the ceramic tile and bathrooms fair, increasing visitor numbers by 44% to more than 28,000, all professionals.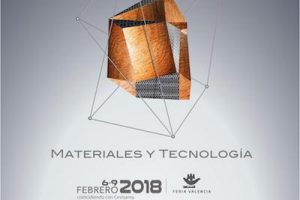 Starting the process, the Organising Committees of the two fairs met last week to give the next events the go-ahead and set its objectives. The two fairs, which will be celebrating their 38th editions in 2018, will seek to consolidate their leading position in the Mediterranean region and, in the words of the committee members, "create major fairs again" by taking advantage of the current economic climate, the industry's recovery and Feria Valencia's capabilities.
Another of both FIMMA's and Maderalia's objectives will be to extend the range of products featured at the two showcases, both in machinery, technology and solutions for the industry (FIMMA) and in materials and components (Maderalia). Especially in the latter area, where numbers of new materials beyond wood, used in the contract sector for example, have been appearing lately.
New additions to the Organising Committees
The two Organising Committees were officially constituted last week and have both started working in their respective areas.  FIMMA's organising committee will again be chaired by Santiago Riera (Rierge) whilst new members include Ricardo García (Bar-Gar and president of AFEMMA), Jan Peter Engel (Homag España Maquinaria) and José Sáez (Maquinaria Disber), who join Marc Farrarons (Herramientas Preziss), Roberto de Cecilio (Comercial Cecilio), Fernando Cots (Virutex), Francisco Luna (Biesse Group Ibérica) and Verónica Menoyo (AFEMMA), who were all members of the previous  Organising Committee.
Maderalia's Organising Committee, for its part, will again be chaired by Francisco Perelló (Valresa) and has two new members: Alberto Santiago (Emedec) and Eugenio Valls (Faus International Flooring). The pair join the members of the previous Committee, who will remain for 2018: Javier García (Indaux) – who acts as vice-president of Maderalia-, Ramón Gabarró (Gabarró Hermanos), Vicente Roselló (Plásiticos Viters – Tarimatec), Manuela Rico (Cantisa) and Jorge Blanquer (Maderas y Chapas Blanquer).
New look for the campaign
A well as setting the dates and objectives for the fairs, the Committee also gave the green light to the new look for the FIMMA – Maderalia 2018 campaign. Created by Feria Valencia's own Marketing & Communications Department, the new look emphasizes the industry's technological development and the versatility of the new materials across different applications.