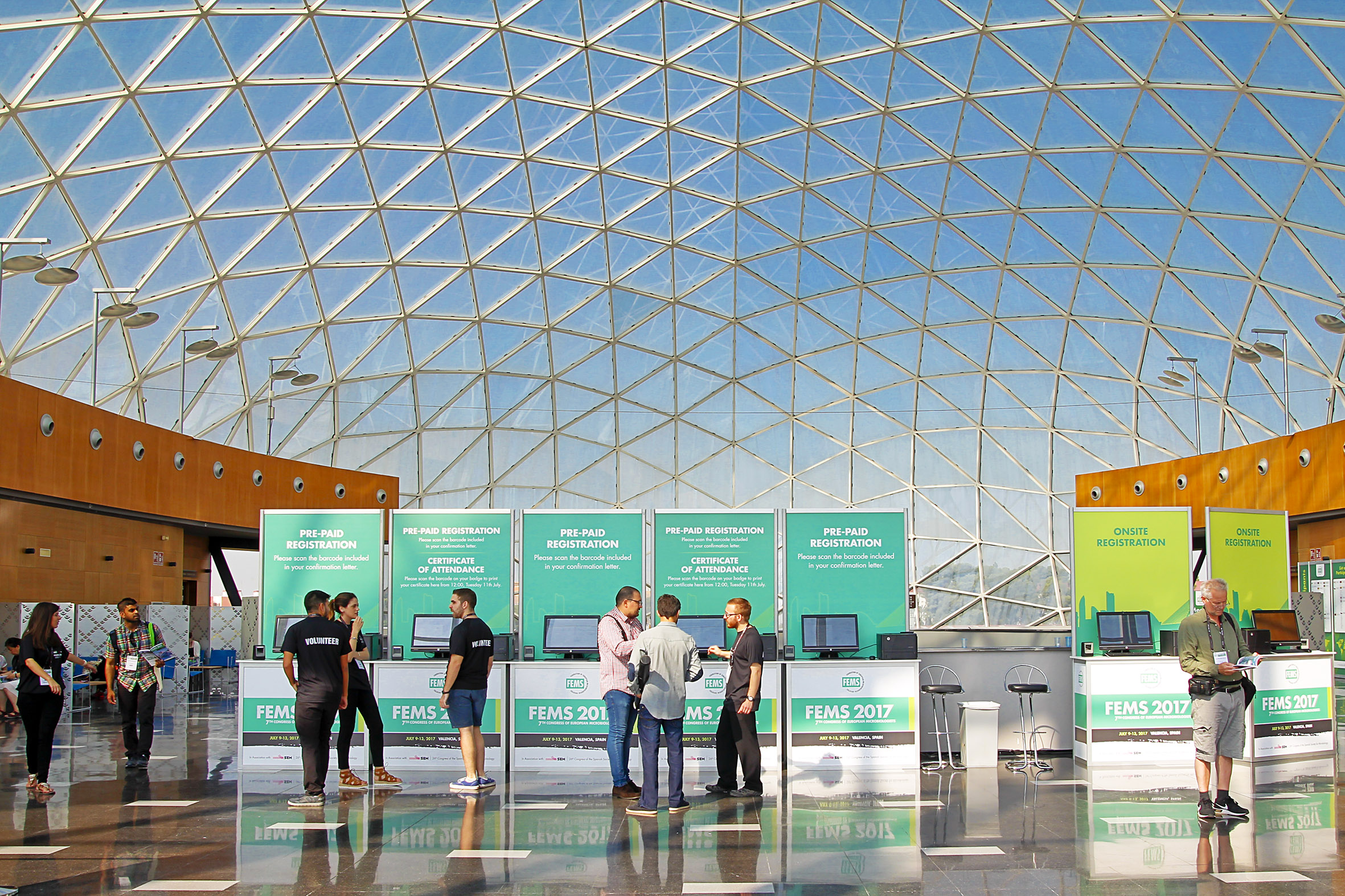 News
Feria Valencia hosted the 7th European Microbiology Congress (FEMS2017), one of the top meeting point for scientists in this field, leading microbiologists around the world. This event brought together 2700 attendees from more than 100 different countries.
This Congress, organized by the European microbiology societies Federation(FEMS) and the Spanish Microbiology society(SEM) had presentations and activities led by relevant international microbiologist. The aim of this biennial event is to serve as a forum for ideas exchange and to define trends in research among members of the international scientific community dedicated to microbiology. This means the definition of the State of science and technology in areas of social interest as clinical microbiology and resistance to antibiotics, the Human Microbiome, food microbiology, environmental sustainability, or the latest advances in molecular biology techniques. Dedicated to young researchers, were held special sessions on the development of technology-based or training and professional development strategies.
Some of the most relevant speakers of this FEMS Congress edition are the French researcher Emmanuel Charpentier or the  Spanish ( Alicante) microbiologist Francis Mojica. Both are in the pools for the Nobel prize for their pioneers researches in biology and application in gene Edition of CRISPR-Cas9 system. These big names co-existed with the universities talent of young researchers and research centers, who showed and discussed the results of their work in the thousands of scientific communications at the Congress.
About Microbiology
Too small to be seen at a first sight, but with a huge impact in our lives, microorganisms are part of our daily lives. Microbiologists are looking for solutions to problems such as infectious diseases or ensuring the availability of healthy aquatic resources, but at the same time, explore the possibilities of use of the resources and positive qualities of micro-organisms, making progress in areas such as biofuels products, bioremediation of contaminated environments or the new bioactive compounds production.
About the Organization
FEMS is a Federation composed by 51 member societies from 36 European countries, connecting around 30,000 microbiologists in Europe, including the 2,000 members of the SEM. To promote scientific knowledge, both SEM and FEMS are responsible for the publication of scientific journals, organize and promote the development of this and other specialized conferences in different microbiology areas. In addition, FEMS and SEM grant prestige awards, as the prize Lwoff or Jaime Ferrán, respectively, provide funding for young researchers for the development of their scientific careers and support congresses organizers, microbiological issues courses and conferences at national or regional level.